Description
The red blend Cuvée DS is classified as a regional Gutswein in the VDP classification. It strikes with an intensive and dense red violet color. Flourishing in the glass there rise scents of ripe heart cherries and delicate herbs. The taste is piquant with a soft note of rosemary. The semi-dry blend is juicy with smooth tannins and a pleasant length.
After taking over some vineyards including a manageable one with Dornfelder vines, we created our Cuvée DS for the first time in 2018. It is a cuvée from the new entered Dornfelder and the already established Pinot Noir. The Dornfelder is the most successful German new cultivar among the red wine varieties. Harmonious and aromatic the performance of our blend convinces also in the vintage of 2022.
The semi-dry Gutswein is the perfect access to the origin-based quality hierarchy of the VDP association. With the mellow flavor but a low alcohol concentration the Cuvée DS sparks a lot of joy and whets the appetite for one more glass. This red wine is a delightful treat even on hot summer days.
Our food recommendation: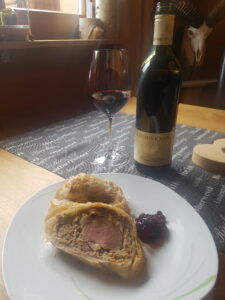 Pork loin in puff pastry with cowberry jelly
Braised shoulder of wild boar with bread dumplings