Description
"Rheinschiefer" means Rhine slate and this Riesling lives up to its name. It captivates with a mineral elegance. The fine scent of apricots is joining an almost salty minerality.
What do you think about when you hear the word Middle Rhine? Presumably you have the many castles in your head, which are so romantically framed by picturesque vineyards and rugged slate rocks. Opposite the Schoenburg castle near Oberwesel lies the vineyard location Engehoeller Bernstein in the side valley of the romantic Rhine. The wine is grown here in steep rows. The slate geologically dominates the ground. In such locations, mainly regional grape varieties are grown. The vines are rooted there quite deep and so absorb the minerality of the soil perfectly. The Rieslings from this location are unmistakable.
The result is a harmonious interplay of delicate fruit and a mineral note, which makes the wine a perfect companion to a delicious snack with hearty ham and cold-cut roast.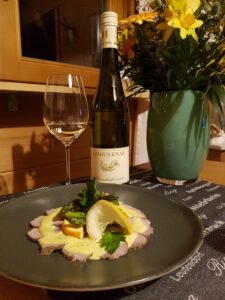 Our food recommendation:
Cold-sliced wild boar roast with citrus mayonnaise