Description
When in spring time nature is blooming and a breeze waft, it brings the fragrance of delicate yellow blossom and young herbs. Tossing a glass of our Engehoeller Bernstein "S" Spaetlese conveys the same scent. But this Riesling offers much more than that: It has a fruity aroma of peach and pineapple. A hint of acacia hones gives the flavor of exotic fruits an amazing glaze. The late vintage has a fine piquancy and minerality, rounded by a high density. The balanced interplay of sweetness and acidity makes the wine interesting at every season.
Erste Lage is the designation for prime vineyards with outstanding character which provide optimal growing conditions and have been proven to produce consistently high-quality wines over a long period of time. The wines are of at least Spaetlese quality. The vines root quite deep in these vineyards. The soil of the Engehoeller Bernstein is dominated by brown and grey slate and provides the minerality in this Riesling. The adept recognizes that by the elegance and the typical peach flavor of the wine.
Opposite the Schoenburg castle in a side valley of the Rhine the vineyard is facing south-east and the grapes are allowed to soak up the sun. The result is a Riesling, harvested slightly later in a riper condition. That develops also the flattering high density.
This fruity Riesling is a gorgeous companion for many occasions.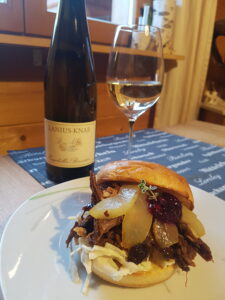 Our food recommendation:
Pulled pork burger made of wild boar with Riesling pear