Description
The dry Pinot Noir Rosé is a real charmer. The full-blooded salmon-pink flirts with the observer. But it would be a crying shame to only look at this wine. It has a seductive scent of spring flowers and marzipan. Followed by rosehip and pomegranate, which give the wine a fruity freshness.
The Pinot Noir is regarded as a very demanding grape variety and is therefore only grown in the most suitable vineyards. Opposite the Schoenburg castle near Oberwesel lies the vineyard Engehoeller Bernstein in the side valley of the Rhine. The wine is grown here on steep slopes. The slate soils dominate the ground. In our Pinot Noir locations there is also clay over the Hunsrueck slate. This is clay, which has arisen from the middle terraces of the Rhine. This type of soil is very beneficial for Pinot Noir wines. The result is a full-bodied Pinot Noir, which, thanks to a short skin contact, becomes a fresh and intensively tasting and delicately spiced rosé wine.
Rosé wines are popular as ideal summer wines. The hot summer of 2022 has given the wine a sunny character and an unmistakable aroma. It is a perfect wine for summer salads and Mediterranean dishes! The spicy tone will be sealed in by the dry Pinot Noir Rosé.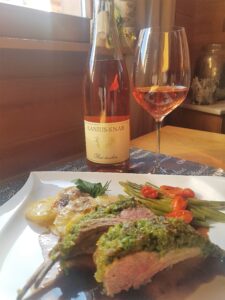 Our food recommendation:
Rack of lamb with herb crust